The Ocean is important for all of us. The Ocean is so important that conserving and sustainable using the ocean is one of UN's Sustainability Development Goals. The Ocean is under severe threat.
Even if Eskelund Consultancy Services is a small organization, it has since day one been important for us to contribute to the future of the society. It is a privilege to announce that we have today partnered with the NGO  Gate to the Arctic. Click here for an updated version of the dashboard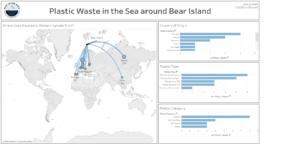 This is a unique project where Gate to the Arctic will bring youngsters to Bjørnøya, which is part the Svalbard archipelago, in Norwegian part of the Arctic to make them new ambassadors of the arctic ocean. During the period from late June to mid-August 2021 the team will sail around Bjørnøya to clean litter and to plastic related work for science partners.
On our dashboard you can follow the progress of collection of waste from the beaches of Bjørnøya
If you like to contribute to the project, you can donate here.