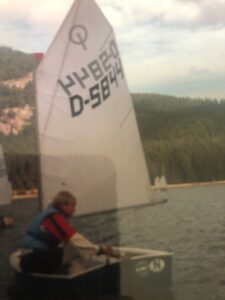 Ever since I was a child, I have had a passion for sailing. The ocean has been my place of freedom. It has been the place where I could relax. It is the place where I can do other things when life is not great. It is a place where I have participated in competitions and found new friends. There is maybe an explorer in my life, and from the time I sailed a "soap box" dingy I wanted to sail to new places and experience new adventures.
My work life this until now has been quite different. Even if I have had my regular promotions and got new tasks, I have mostly taken on the safer choice of jobs. Well, with some exceptions. Living and working two years in Mumbai in India, where it was a poisoned snake at my bathroom the first night is maybe not a safe choice. Despite looking for the safer choices, I have changed organizations from time to time and always wanted to broaden my knowledge.
Still, it is with a great deal of humbleness, and quite several butterflies in my stomach that I in the summer of 2020 decided to start as an independent consultant. This was in the middle of the Covid-pandemic, which is maybe the worst possible time to start a new adventure. In the beginning I could not even meet any potential customers face to face. Still, I did it. Well, it is maybe the rebel and adventurer in me that made the decision.
Now, around half a year later I can indeed look back at a quite interesting journey so far. I have managed to get some customers. Absolutely I have learned new skills. Even I have managed to pay myself some small salary. Not too shabby in less than half a year.
So where does the journey go form here? What will Karsten and Eskelund Consulting Services work with? Who knows? My experience in life so far tells me that the road (or the ocean) is being created during the journey and that as a human being we cannot fully decide where that journey take us. One thing that is for sure is that I will continue to use the knowledge I have gained over more than 20 years of hard work. This means that I aim to continue to work in the juncture between technology and procurement. In the boundary between customers and vendors. To me it is quite clear that there are other and better ways customers and vendors can work together to create better partnerships. This is indeed an area I like to develop further. Maybe I will spend some more time abroad too. Who knows?
In the meantime, I hope to see you all soon. At the ocean or in an exciting project.